THE DECALOGUE:
In these days we are all impatiently waiting for the moment when the activities will start again.
When this happens, it will be necessary to take many measures in order to make the work space safer, in the light of the recent instructions and health protocols.
Centrufficio S.p.A. has been furnishing offices for 30 years: we know what characteristics a cozy, safe and efficient space should have, because offices are meant to host people for many hours a day.
For this reason, we have created a decalogue containing all the tips to organize the offices for reopening. We want to share it with you in these, hopefully, few last days of quarantine.
FIRST TIP:
Cleaning, sanitization, choice of the surface material
We suggest you to consider surfaces, furnishings, dividers and accessories that are easily washable and linear, without discontinuities.
As for chairs, they would be better in a washable material (like eco-leather), or if you prefer fabric seats, we suggest you to clean the fabric at 90° with a steam cleaner.
As for waiting chairs, we suggest you to have them in PVC or plastic material, that is easily disinfectable with alcohol-based products.
As far as the sanitization of the places is concerned, it is important to have a daily cleaning of all the surfaces mostly touched (handles, keyboards, mouses and desk tops) with alcohol-based products; as well as a periodic sanitization of the places (it can be done once a week or more frequently, depending on the quantity of personnel, or on the coming and going of people coming from the outside).
Choice of the surface materials:
For your waiting rooms, we suggest you to use PVC chairs, better if with a single seat instead of benches, in order to guarantee the distance of at least one meter between visitors.
Here some examples:
Swivel Narciso chair – for visitors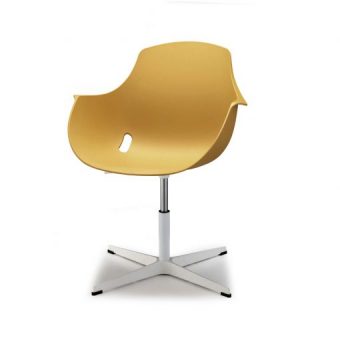 € 108 + VAT
Dimensioni W63/48/67 D51 H84/42
discover more
Vicenza chair – for waiting rooms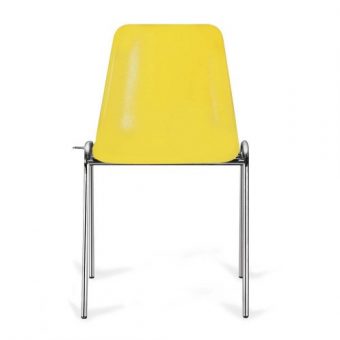 € 21 + VAT
Dimensioni W54 D49 H79.
discover more
In addition to the well-known tips on personal hygiene (washing your hands frequently, not touching your face; etc…), you can provide all your collaborators and visitors sanitizing hand rub dispensers, to be put at the entrance of every room:
Sanitizing hand rub dispenser, also available with photocell.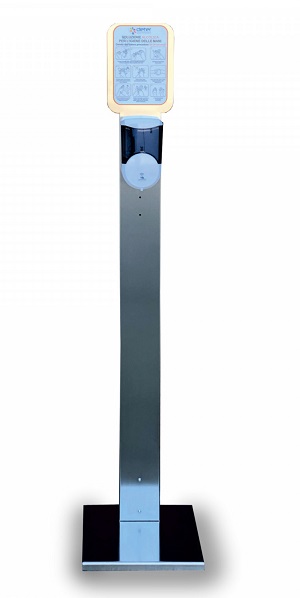 Buy it on our Online Store at € 99 +VAT:
Buy it here:
Find the right alcohol-based product on our online store:
Isoalcol75
75% alcohol-based sanitizing product
for desks and face masks
€ 149 + VAT – 18 pcs packaging
Buy it here:
For periodic sanitization: :
Contact us to have a free quote – we can also provide you this service thanks to the partnership with qualified companies in the health sector!
Thanks to the "Cura Italia" Decree, a tax credit of 50% has been allocated for sanitization and hygiene.
SECOND TIP:
Separate all workstations:
In the last few years, bench workstations with frontal benches have always been preferred to single desks or bench in line, with 2, 4, 6 and even 8 seats.
Today, however, it is essential to separate the desks in order to give a larger distance between the employees. The workstations can later be reconfigured as a bench, by simply removing a leg or replacing the beam under the top.
Here below some of our solutions: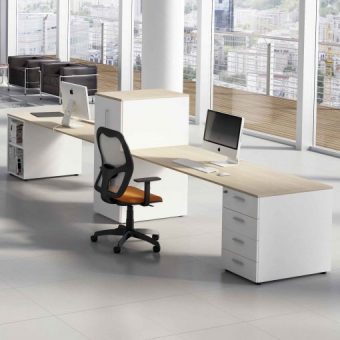 Doria collection
You can separate the bench workstations with a side container or filing cabinet. The workstations can be reconfigured later, with a little expense, adding a shared bridge leg.
discover more
Doria collection

If there's enough space, you can separate the frontal workstations, simply by changing the shared bridge legs.
discover more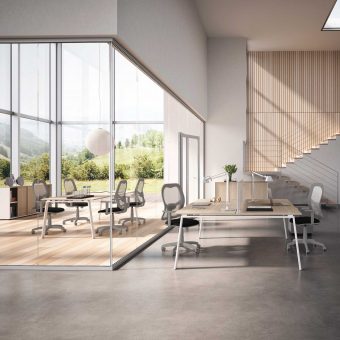 Delta collection
If there is not enough space to move desks away from each other, use low dividers – if necessary, made of glass – or desk dividers, so that everybody has its own space, limited and safe.
discover more
THIRD TIP:
 Use of plexiglass, wooden, glazed or sound proof dividers.
Equip workstations with dividers, so that each operator has his own space and feels safe. You can use the classic wooden screens or the brand-new plexiglass screens, which maintain the visual depth of the spaces, instead of completely isolating, thanks to their transparency.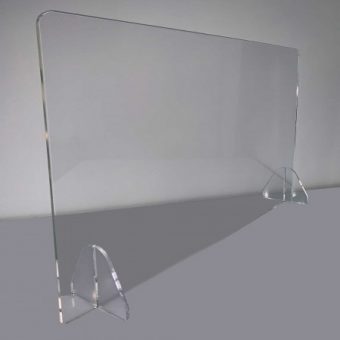 Breath protection plexiglass desk screens
With or without paper pusher, from € 74 + VAT
Buy it here:
 Plexiglass screens, also available with clips or with support feet: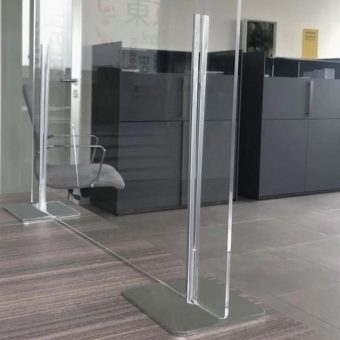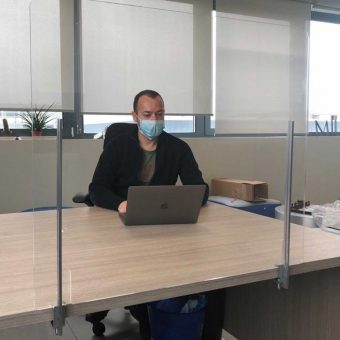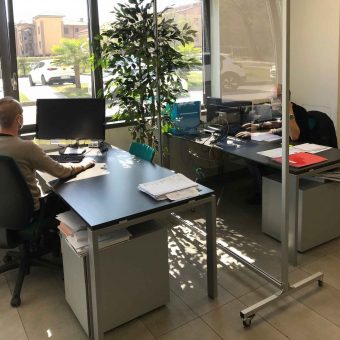 Floor plexiglass screens, on feet or on wheels.
Easy to carry and adoptable to any space, € 349.+VAT
Buy it here:
Let's not forget about the acoustic solutions: thanks to the sound proof panels, in fact, you can divide the workstations, for a greater safety for workers, but you can also create a more comfortable environment from the acoustic point of view: thanks to the reduction of the level of reverberation in large rooms, there will be, as a consequence, the reduction of stress, that is already high in this period.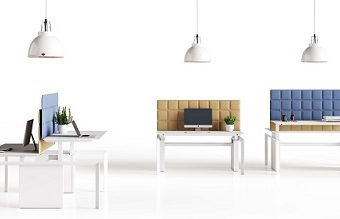 Tetrix Desk
discover more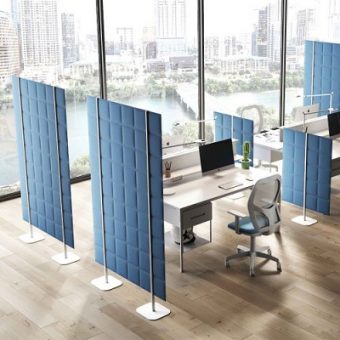 Tetrix free standing
discover more
As it is necessary nowadays to think about new ways to work remotely, (video call meetings, webinar trainings, etc..), the noise pollution of the environments will increase with the continuous use of the telephone and pc, and it is therefore important to start thinking about the acoustic comfort of your employees.
Ask for a free acoustic design!
FOURTH TIP:
Instead of open spaces or large work spaces, it is time to prefer individual offices or those with a maximum of 4-5 people inside them.
There are no real ministerial provisions limiting the number of people per square meter, but it is essential to be able to guarantee the safety distance of at least one meter between the employees and that there are as few people as possible in the rooms.
In light of this, we recommend reconfiguring the offices so that the corridors have a minimum width of 2 meters and that the offices contain a maximum of 4/5 people (if possible), every 20/25 sq.m.
We therefore suggest dividing the open spaces into smaller spaces, through the use of dividers preferably in the glass version to avoid creating cramped rooms.
Aquarius glass partition wall
€ 159/sq +VAT
Have a look to our wall offers:
FIFTH TIP: 
Work from home:
When the separation of the rooms is not possible, or when the minimum distance between colleagues cannot be guaranteed to all employees, it is good to resort to the home office.  Lately, working from home divides people: on one hand there are those who consider it to be better than working in the office, because it saves time and people feel more relaxed and less "disturbed" by phone calls or by colleagues who work in their same room. On the other hand, there are those who consider it to be more problematic because it weakens the social and human relation among colleagues and, moreover, those who live with children find it not always easy to concentrate.
We believe that the best solution stands in the middle. Even while working from home, one should not forget the precautions that are needed in office: first of all, the use of a comfortable and ergonomic chair, which will avoid lumbar, cervical and musculoskeletal disorders. In addition, it is good to remember to get up at least for 15-20 minutes every 2 hours: for example, while having a phone call, you can get up and walk for a few minutes in order to relax your muscles and back. Then, do not forget to do 15-20 minutes of stretching per day for legs and back.
Another important precaution in working from home is the use of a specific space to work on: a small desk, a small table, a corner of the dining table, whatever space where you can leave all the working stuff, without having to move them every time. NO to improvised positions on the sofa or on kitchen table.
It is fundamental that the chosen location has a good access to sunlight, possibly making sure that it is arranged in front of a window. Remember, then, leisure and workout: often, those who work from home work more than they do in office, as they are concentrated and have no fixed timetables. However, it is important to relax for at least 30-45 minutes every 4 hours, dedicating ourselves to a meal or a home workout to take care of ourselves (just do not think about housework!).
For all the tips regarding working from home, follow us on our Instagram page: www.instagram.com/cuf_milano/
Thanks to the CUFfee Break section, Annalisa will be ready to give you important tips on how to arrange your home office!
For requests for advice, suggestion and quotes, just ask to Annalisa: a.mauro@cuf.it
Here some of our solutions: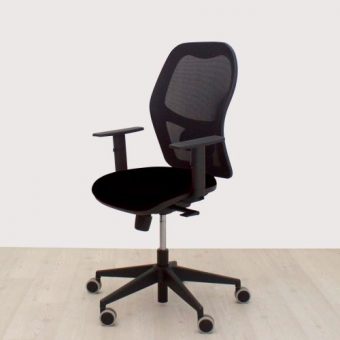 Diana rete chair
Ergonomic seat 81/08 certified for 8h work, with synchro mechanism, , € 152 +VAT
scopri di piu'
Fusion Desk
It can be equipped with shelves, pc holder, hooks for objects,  € 641 + VAT
discover more'
SIXTH TIP::
Store your personal belongings.  
We suggest to equip the office with wardrobes, lockers, drawers, so that anyone has its own closed personal space where it is possible to store personal belongings (jacket, gloves, bag, helmet, water). Those spaces need to be separated from the other employees' ones and distinct from those intended for work.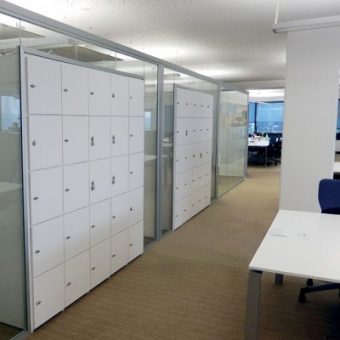 Doria Cube bookcase
Modular bookcase with push-up or key closing doors.
discover more'
SEVENTH TIP: 
Equip reception counters and locations:
Equip the reception and goods receiving stations with glazed or plexiglass dividers, better if with paper pusher. If possible, do not receive visitors at your desk but create, near the entrance, one or more closed rooms, of a size such to maintain social distances, dedicated to visitors.
Plexiglas desk screens, with paper pusher.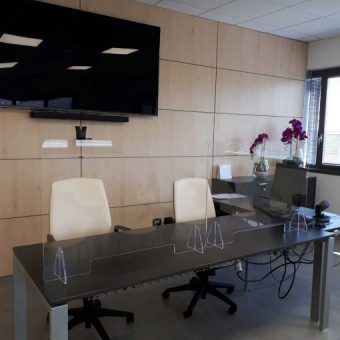 Available on feet or with a clip to the desk, from  € 74 + VAT
Buy it here
EIGHTH TIP:  
During the few last weeks, the meetings have only taken place via video conference.
Zoom, Whatsapp, Meet, Hangouts, Skype: there are many applications and their cost, when they are not free, is very modest (around €10 per month for each "master" user).
A stable internet network is essential, but apart from that, video calls are much more comfortable: firstly, because one speaks at a time and each person has his own space, without the risk of being interrupted by annoying buzzes, thanks to the limitation in the use of the microphone and, secondly, because it is a way to meet people also living in different cities or states, and even if you are wearing slippers.
So, how to reconfigure our meeting rooms, usually consisting of 4-5 meters long conference tables, full of seats?
First of all, in case you have a meeting room for 25-30 people, a tip is to divide it into two or three different environments, in order to create "small" rooms for 5-6 people (remember to put the seats at least 1 meter away from each other!).
Here the most important thing is technology: each meeting room must be equipped with a screen connected to the internet for videoconferences, as well as with microphones and audio systems. At this point, it is also important to try to soundproof your meeting room.
Use Aquarius Duo walls for a greater soundproof, while maintaining the transparency of the glass, € 192/sq. m.+ VAT
scopri di piu'
Contact us for a free quote to make your meeting rooms suitable for videoconferences: we will be able to recommend the most suitable product for your needs and, thanks to our IT team, we will be able to install all the new equipment needed.
For medium-sized meeting rooms, we recommend Lenovo ThinkSmart Hub500, at a cost of around € 1.600 + VAT.
NINTH TIP:
Choose Made in Italy products 
At a time like this, it is essential to help the internal economy. Furthermore, in the furniture and design sector, the Made in Italy is famous all over the world for its high quality.
Our furnishings are designed and manufactured in Italy, have all the safety and stability certifications, as well as important environmental certifications on the composition and processing of materials (such as the formaldehyde emission).
Contact us for more information on certifications.
Fusion desk – winner of the German Design Award 2020
Designed by J. Bennett – Sakura Adachi
To CUF Milano, Centrufficio's design brand.
scopri di piu'
TENTH TIP:
In applying all the rules and precautions, given by the present situation, to make the rooms safer, we suggest you to recreate welcoming and relaxing environments, paying particular attention to the choice of colors, the right lighting and the choice of accessories (better to have few of them to be replaced in rotation, rather than many and messy).
Here an example of an office's reorganization
Pre-covid
Post-covid